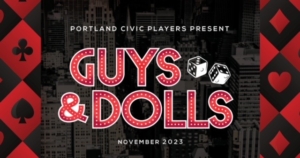 Auditions
GUYS AND DOLLS – Audition Info
The Portland Civic Players are excited to announce audition dates for their fall production of Frank Loesser's Guys and Dolls! Auditions will be held 
Monday, August 28, and Tuesday, August 29 at 7pm at the Portland Community Theater located at 231 Maple Street in Portland. Performance dates are November 3, 4, 5, 10, 11 and 12.
Auditions are open to all persons 17+ in age. Please bring an audition piece to sing, with a backing track. There will be a dance portion to this audition that will be taught before auditions begin and The play will be directed by Matthew Thelen and Lynette King.
There are at least 30 ensemble roles including the principal roles. There are four lead roles we are looking to fill; Sarah Brown, A prim and proper leader of the New York Save and Soul Mission, Miss Adelaide, the lead hotbox dancer and waiting bride to be, Sky Masterson, A high roller looking for love, and Nathan Detroit, good old reliable crap game fixer on the hunt for a place to hold the next big crap game.
Based on a collection of short stories written by Damon Runyon, primarily "The Idylls of Sarah Brown" and "Blood Pressure", Guys and Dolls premiered on Broadway in 1950 and received the Tony award for best musical. With Multiple revivals on Broadway and in London, and over 1,000 shows during its initial run, the Broadway recording of the original cast was inducted into the Grammy Hall of Fame in 1998 with such well known songs like Luck Be a Lady, Adelaide's Lament and Sit Down You're Rocking the Boat.
Contact theatertroll01@yahoo.com with questions.
Guys and Dolls is presented through special arrangement with Music Theatre International (MTI). All authorized performance materials are also supplied by MTI.
www.MTIShows.com.
Audition Dance Number
Just in time for auditions next week, here's the dance number we will be using!
Please take a few moments or as much time as you need to familiarize yourself with this routine! And don't be nervous… this portion of auditions will not effect your placement in the show!
Think of it as our way of understanding your skill set and where we would need to put in extra time, if need be. Be fun, have lots of energy and just feel the rhythm.
Step-by-Step
Demo [FRONT]
Demo [BACK]