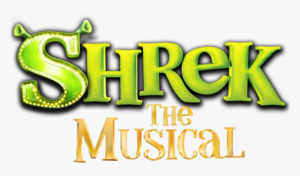 Auditions
Auditions for our fall production of Shrek: The Musical will be August 29th and 30th at 7 PM at the Portland Community Theater (Click HERE for directions).  Bring a prepared song with a backing track and be prepared to read from selected sections of the script.
Ages:
2 roles for one boy and one girl age 10-13

Principal and Ensemble roles (MANY) age 13 and up
What You Need: A prepared song with a backing track (you will not need the entire song. Approximately 1 minute needed) and be prepared for a cold reading from the script.
Rehearsals:  Will start September 6, 2022 at 7 PM. Rehearsals will be Monday, Tuesday and Thursday at 7 PM will some weekend rehearsals if needed for choreography.  
Character meet and greet (select characters only): October 15th @ the Portland Community Theater.
Dress rehearsal: October 23rd.
Performances: November 4 and 11 at 7 PM and November 5, 6, 12 and 13 at 2:30. (As this is a very family oriented show, we are going with 4 matinees and 2 evening performances). 
Director: Mary Teachout 
Assistant Director: Erin Hoard
Stage Manager: Laurie Reeves