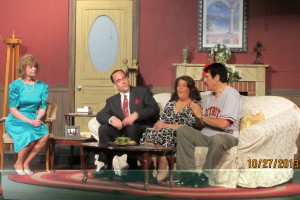 The cast is ready, the set is ready, the only thing missing is the audience for the
November l,2,3,8,9 production by the Portland Civic Players of the Neil Simon
play "The Odd Couple" (female version).  This show is fun and funny.  You'll
enjoy listening along as Debbie Hattis, Nita Massey, Tyann Wallace, Kacie
Shaw, Wanda Urie and Linda Ferrera handle their problems with the help of
Roger Miller and Clay Ramsey.  Don't miss this.  Friday and Saturday performances
are at 8:00 PM and Sunday at 3:00 PM.  Tickets are available online, at the door, or by calling 5l7-647-4041.  All seats $ l0.00 for this show.   We'll see you there!!