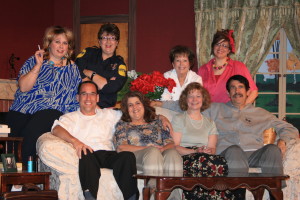 What happens with a busy divorced TV news producer invites a dumped
socialite to share her apartment??
That's what you'll find out when you come to see "The Odd Couple"
(female version) at the Portland Playhouse November l,2, 3 and 8 and 9.
Directed by Ruth Ann Peake, there will be only one Sunday Performance, on
Sunday, November 3. Curtain time for the matinee is 3:00 PM, all other
performances are 8:00 PM. Tickets are $ l0.00 for all seats.
This is a very funny play about two people who can't get along, but
want to try. Olive (Debbie Hattis) invites Florence (Nita Massey) to
live with her just for a little while. They're given support by their
Trivial Pursuit friends Sylvie (Kacie Shaw) Vera (Wanda Urie).
Renee (Tyann Wallace) and Mickey (Linda Ferrera).
A romantic visit from two Spanish brothers Manolo(Clay Ramsey) and
Jesus(Roger Miller) only add to the fun and confusion.
This is a play you won't want to miss. Order tickets at 5l7 647 4041
or via PayPal.