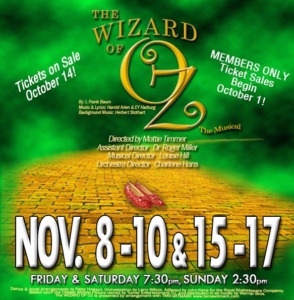 The Wizard of Oz
When a tornado rips through Kansas, Dorothy and her dog, Toto, are whisked away in their house to the magical land of Oz. Glinda, the Good Witch of the North helps guide them as they follow the Yellow Brick Road toward the Emerald City to meet the Wizard. On their travels, they meet a Scarecrow that needs a brain, a Tin Man missing a heart, and a Cowardly Lion who wants courage and face the Wicked Witch of the West at every turn looking to get back her ruby slippers. When they meet the wizard, he asks the group to bring him the broom of the Wicked Witch of the West to earn his help. This stage version is based on the 1939 movie that starred Judy Garland.
Water based smoke and strobe effects are used in this production. Show runs approximately 2 hours and 30 minutes. All performances feature reserved seating. Doors open 30 minutes prior to each performance.
Kansas
Dorothy Gale: Mary Timmer
Aunt Em: Pamela Robinson
Uncle Henry: Bob White
Zeke/Cowardly Lion: Jonathon Bair
Hickory/Tinman: Antonius Watkins
Hunk/Scarecrow: Jonathon Showerman
Miss Elmira Gulch: Jessica Schneider
Professor Chester Marvel: Rory Miller
Munchkinland
Glinda the Good Witch: Cassie Little
Wicked Witch of the West: Mary Teachout
Mayor: Francis Austen
Coroner: Keegan Krieger
Barrister: Simon White
Lollipop Guild: Clayton Rice, Xander Dilley, Evelyn Johnston
Lullaby League: Abby Rice, Maria Austen, Olivia Evanson
The Crows: Chuck Dibean, Emerson Dibean, Preston Dibean, Wade Dibean
The Trees: Kali Thelen, Emily Perry, Krysta Koenigsknecht
The Emerald City
The City Guard: Kent Bennett
The Beauticians: Marriah Lawler, Veronica White, Melody Merrill
The Polishers: Tom Little, Rudolf Van Goethem, Rory Miller, Chuck Dibean
The Manicurists: Candace Dilley, Amanda Laming, Nikki Morgan, Kristi Dibean
The Wizard of Oz: Richard Hans
The Haunted Forest
Nikko, Commander of the Monkeys: Avery Martin
Winkie General: Roger Miller
Chorus
Nathaniel Barron                             Lyndsey Camp
Rosemary Camp                               Maddy Day
Ember Dilley                                     Cecelia Little
Leon Miller                                        Charlotte Sheehan
Jack Sheehan
Director: Mattie Timmer
Assistant Director: Roger Miller
Stage Manager: Laurie Reeves
Musical Director: Louise Hill
Choreography: Sara Pohl, Mattie Timmer
Orchestra Director: Charlene Hans
Costume Design: Denise Showerman, Rose Mary Leik
Set Design/Construction: Chad Teachout, Adam Reeves, Laurie Reeves, Clay Ramsey, Mary Teachout
Sound: Sara Pohl
Lights: Adam Foote, Garrett Ramsey
Tech/projection lead: Shelley Perry
Media/Publicity: Deb Hattis
Box Office/Sales: Laurie Thelen, Ruth Ann Peake
Performance Dates
(November 2019)
Friday, Nov. 8 | 7:30 p.m.
Saturday, Nov. 9 | 7:30 p.m.
Sunday, Nov. 10 | 2:30 p.m.
Friday, Nov. 15 | 7:30 p.m.
Saturday, Nov. 16 | 7:30 p.m.
Sunday, Nov. 17 | 2:30 p.m.
Location
Portland Community Theater
231 Maple Street
Portland, MI 48875
Show Sponsors