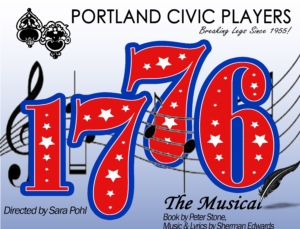 1776
Doors open 30 minutes before showtime
Synopsis:
John Adams, the original innovator behind America's Declaration of Independence, teams up with Benjamin Franklin, Richard Henry Lee, and Thomas Jefferson to battle those in Congress who oppose the movement to declare independence from England. The team cooperatively conceives and eventually passes the resolution that frees America from British tyranny.
*Based on a concept by Sherman Edwards. 1776 is presented with special arrangement with Musical Theatre International (MTI). All authorized performance materials are also supplied by MTI. www.mtishows.com
Tickets
Call us at (517) 647-4041 or CLICK HERE to purchase online.
Cast
John Adams……Clay Ramsey
Benjamin Franklin…….Jonathan Bair
John Dickinson………Erin Hoard
Edward Rutledge……..Matt Thelen
Stephen Hopkins……..Kelly Ramsey
Thomas Jefferson………Antonius Watkins
John Hancock……Chuck Dibean
Martha Jefferson……..Tiffany Brown
Abigail Adams………Jessica Bigelow
Richard Henry Lee…….. Kent Bennett
Roger Sherman………Roger Miller
Andrew McNair…….Rory Miller
Robert Livingston………Leon Miller
Samuel Chase……Kristi Dibean
James Wilson……..Kelly Frazee
George Read……….Sophie Leik
Caesar Rodney……….Pam Robinson
Charles Thompson………Joe Pung
Lewis Morris………Leon Miller
John Witherspoon………Grace Sutherland
Thomas McKean………Clayton Rice
Lyman Hall ………Laurie Reeves
Josiah Bartlette……….Eveylyn Johnston
John Hewes………Tiffany Barron
Leather Apron……..Wayde Dibean
Courier…………Abigail Rice
Crew
Lights……Garrett Ramsey and Steve Paradiso
Sound…….Logan Reeves
Assistant Manager……Lizz Korzen
Producer/Social Media……Mary Teachout
Box Office…….Laurie Thelen
Music Director……Jessica Cymbal
Publicity/Poster Design…….Deb Hattis
Performance Dates
(November 2021)
Friday, Nov. 12 | 7:30 p.m.
Saturday, Nov. 13 | 7:30 p.m.
Sunday, Nov. 14 | 2:30 p.m.
Saturday, Nov. 20 | 2:30 p.m.
Saturday, Nov. 20 | 7:30 p.m.
Sunday, Nov. 21 | 2:30 p.m.
Location
Portland Community Theater
231 Maple Street
Portland, MI 48875