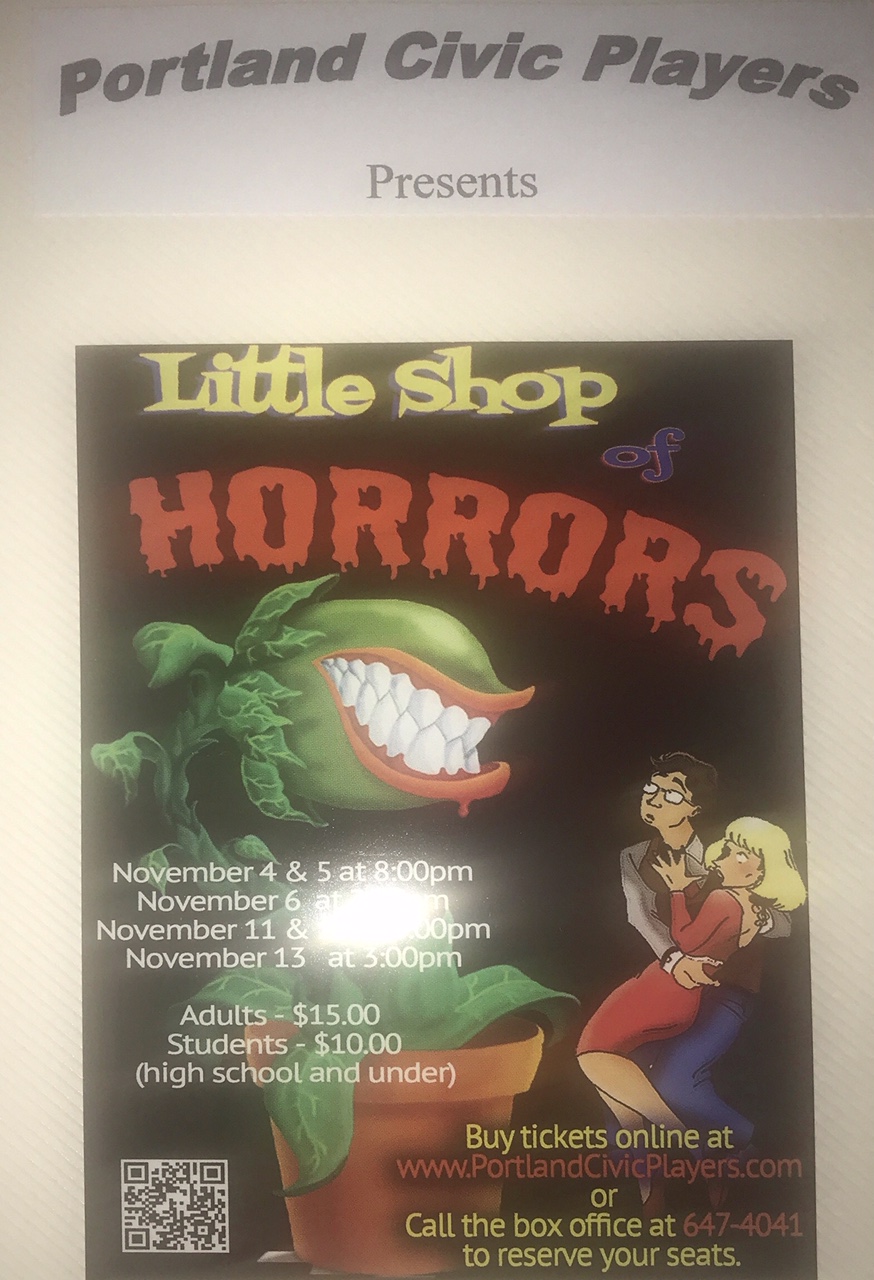 Little Shop of Horrors
Meek flower shop assistant Seymour (Rick Moranis) pines for co-worker Audrey (Ellen Greene). During a total eclipse, he discovers an unusual plant he names Audrey II, which feeds only on human flesh and blood. The growing plant attracts a great deal of business for the previously struggling store. After Seymour feeds Audrey's boyfriend, Orin (Steve Martin), to the plant after Orin's accidental death, he must come up with more bodies for the increasingly bloodthirsty plant.
Cast
Voiceover/Henry: Richard Hans
Chiffon: Mary Teachout
Crystal: Mattie Timmer
Ronnette: Chris Horvath
Shirelle: Emily Perry
Mr. Mushnik: Dan Schrauben
Seymour Krelborn: Rory Miller
Audrey: Marites Eldred
Mazzee: Kacie Shaw
Derelict: Robert Logan
Derelict/Wink Winkleman: Jacob Korreck
Orin Scrivello, D.D.S: Jack Schrauben
Dental Patients: Caleb Moran, Sarah Mauren, Emily Bengel
Mrs. Luce: Linda Ferrara
Skip Snip: Dennis Schneider
Patricia Martin: Cassandra Hanson
Audrey II (Manipulation): Brian Pohl, Al Lazette
Audrey II (Voice): Dr. Roger D. Miller
Company: Noel Bennett, Omana Boddu, Tiffany Crawford, Tiffany Mrazik, Kelly Sandborn
Crew
Lights: Rick Bengel
Spotlight: Craig Seekamp
Sound: Molly Seekamp
Set Construction: Rick Bengel, Ray Hoskins
Set Decorations: Shelley & Tim Perry, Mattie Timmer, Richard Hans, Robert & Colleen Logan, Cassandra & Josh Hanson, Tiffany Mrazik, Mary, Nicole & Jermy Teachout, Cast Members
Bass: Allen Randall
Drums: Josh Arleth
Guitar: Doug Snitgen
Trumpet: Roschenne Parmalee
Directors: Dr. Roger D. Miller & Rory Miller
Producer: Ruth Ann Peake
Music Director: Rory Miller
Pianist/Orchestra Director: Charlene Hans
Choreographer: Rachel Miller
Set Design: Roger Miller, Shelley Perry
Props: Wanda Urie, Shelley Perry
Hair Styles: Kelly McDough
Costumes: Rose Mary Leik, Shelley Perry, Seams by Sarah
Tickets: John Tannery
Publicity: Ruth Ann & Chris Peake, Shelley Perry, Wanda Urie
Poster Designer: Todd Dylewski
Programs: Ruth Ann Peak, Lauise Hill, Charlene Hans
Photos/Scrapbook: Carolyn Manning
Box Office: Marylou Tannery, Molly Seekamp, Laurie Thelen, Shelley Perry, Pat Hazen
Performance Dates
(November 2011)
Friday, Nov. 4 | 8:00 p.m.
Saturday, Nov. 5 | 8:00 p.m.
Sunday, Nov. 6 | 3:30 p.m.
Friday, Nov. 11 | 8:00 p.m.
Saturday, Nov. 12 | 8:00 p.m.
Sunday, Nov. 13 | 3:30 p.m.
Location
Portland Community Theater
231 Maple Street
Portland, MI 48875